Nanda Petrol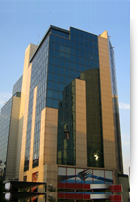 NANDA Petroleum and Chemical Products Co. Ltd. is a young, dynamic and modern company trading in Petroleum and Chemical Products which was established as an independent company in Istanbul in mid of 2005.

Facilities
Our firm stores the goods which we supply, in Yılport port located in Gebze.
Our firm has storage capacity up to 25.000 mt monthly in Yılport port and our firm makes sale of these goods from tanks in the port directly.